For Christmas this year, I put two pairs of breeches on my wish list: the SmartPak Original Knee Patch Pipers and the Dover Riding Sport Knee Patch Event Breeches. Both breeches I got, and both breeches I had to exchange. The returns and exchanges were easy for both pairs.
The exchange for both pairs went like this:
1. Filled out the exchange forms and sent them back.
2. Received a call that since it was the busy season, the exchange might take a while. I told them it was okay.
3. My breeches came in the mail!
The first thing you will notice about these breeches is that they are freaking adorable.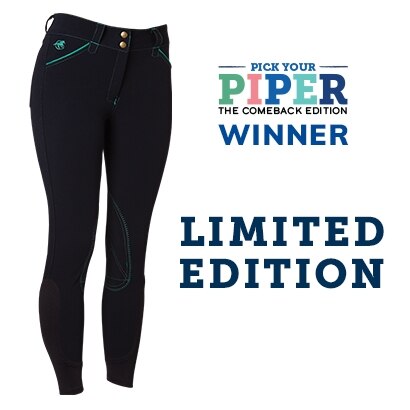 I got them in the navy/turquoise, so they are a beautiful, dark, rich navy blue with bright turquoise stitching on the knee patches, piping on the pockets, and the signature SmartPak logo.
They also have the best thing ever invented aka SOCK BOTTOMS. These soft, stretchy bottoms start right below the knee patches. I'm 5'1″ so breeches are usually a little long on me, so the stretchy material scrunches up around my ankles, which is way better that the velcro that cuts into my ankle bone.
Let's talk about fit for a second: To start with, I have a pretty hourglass figure, but I have thick thighs and a bit of a muffin top. But hey, we can't all be perfect! I like mid-rise or "natural fit" breeches, because they sit comfortably over my stomach. The original Pipers fit perfectly, flattering my stomach and keeping everything contained while being stretchy enough to be comfortable. As for my thighs, the Pipers are stretchy enough to be comfortable, but they're tight enough to still be flattering. They also have the Euro-seat, which is a nice touch.
These Pipers also have a 2″ wide belt loops, which are my favorite. They're the perfect width for my C4 Belts, which are, as we all know, the best equestrian belts. I think they're also more comfortable than the 1″ belts, which tend to be pinchy and unflattering.
The last part of these breeches I want to mention is the material of the Pipers. They are stretchy, but tight enough to be flattering (repetitive, I know). A loose breech is a fashion faux-pas for sure, and nobody likes that (the exception being male riders). I really like this material: it's cool enough for the summer but warm enough for the winter.
It's also pretty stain resistant. You know how I found this out? Because my horse is an idiot, and I'm cursed. Every single time I ride in a new product (breeches, boots, helmet, etc.), I fall off, either the first ride or one of the next rides. Well, these guys were no different.
Beau spooked at a tarp and bucked me off. These breeches, while covered in dirt from landing on my hip, cleaned up fairly well just brushing off the dirt, and still look brand new! I rode in them again last week and they were just as comfortable and nice as I remembered.
I definitely plan on getting another pair of these – they're too nice to have just one, and I love all the colors.